Our handcrafted glass pendant lights are designed for those seeking superb quality art lighting. Each handblown glass pendant adds one-of-a-kind visual interest to any residential, commercial, or public interior space.
STRATA
The exterior of these pendants are finished in a smooth lustrous satin surface with inlaid rich complementing colors with our signature Strata design. Colors are available from any combination of Tangerine, Sage Green, Lime Green, Amethyst, Ruby and Cobalt. Interior color is white.
BATIK
The exterior of these pendants are also finished in a lustrous satin finish and the rich tactile pattern of our Batik design ensures that each piece is unique. A very organic pattern consisting of rich hues of topaz and coral red. Interior color is white.
OPAL
Choose between Light Opal (base color is White) and Dark Opal (base color is Black).
Round Pendants are approximately 7" in diameter.
Teardrop Pendants are approximately 7" in diameter x 9" long.
Chandelier Multi-Point Canopies
Our new chandeliers provide a stunning decorative accent, with dual uplight and down light super high performance LED engines. Dimable down to 15%, they integrate high performance with ambient lighting. Chandelier multi-point canopies are available with 3, 6 or 12 Pendants.
We offer our Strata, Batik and Opal designs for these multi-point chandeliers.
Create your custom glass lighting
Our signature colors can be combined in many variations allowing our clients to be part of the creative process.
Choose single or double accent colors to design your own piece.
Strata series pendants are available in Ruby, Tangerine, Amethyst, Sage, Lime, and cobalt.
Opal series pendants feature a pristine white background accented with Lime, Amethyst, or Tangerine.
Our pendants are available in round, teardrop and cylinder forms.
Color recommendations
Need help finding the perfect pendant color and form for your space? Contact us for our favorite combinations and recommendations for your particular space, or lighting project.
We work closely with design professionals and architects to create stunning environments with an ambiance that truly reflect the client's style and unique aesthetic.
Included Hardware
Our pendants arrive with all needed hardware for fast and easy installation. We use high quality WAC brand LED hardware and fixtures. WAC brand hardware is UL approved, and represents cutting edge technology at its finest. The bulbs are incredibly energy efficient with very long life span.
The standard length of the braided steel drop cords is 6 Ft. We can provide 12 Ft cords for a small additional fee. The cords can be cut to length by your electrician at time of installation.
Our ceiling canopies all contain their own transformers, and attach seamlessly to any standard ceiling junction box.
We offer mono point canopies and chandelier canopies. Chandelier canopies can support 3, 6, or 12 individual pendants.
Our hardware is fully dimmable and is available in brushed nickel and dark bronze finish.
Outside U.S. hardware requirements
We frequently send our pendants overseas. Depending on your location, step-down transformers specific to your country's electrical system will need to be installed to align our hardware.
Please contact us for specifics. We can send recommendations to your electrician. We are happy to work with our client's electrical professionals to answer any questions.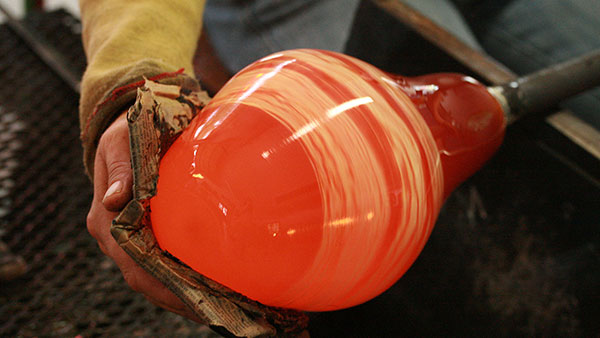 Superior Craftsmanship
Each blown glass piece emulates the look and feel of natural stone. The surface of each piece is sand etched and sealed creating a lustrous satin finish.
While perfectly complimenting natural stones and rich grained woods, our pendants glow with reflections of sunsets and sunrises over desert, mountain, and ocean landscapes. They invite a sense of calm serenity and well-being.
The colors glow beautifully when illuminated, and the light is diffused with a natural elegance.
Please contact us for a consultation and discussion of custom works. We look forward to working with you to create your perfect interior.