About Gartner Blade Glass
Gartner Blade Glass is the collaborative work of Danielle Blade & Stephen Gartner. Business partners since 1996, we combine our ideas, techniques, and experiences to create original works in both blown and sculpted hot glass.
We are continually developing a series of pieces that explores our interpretation of objects used in rituals and worship. The inspiration for these pieces begins with our mutual fascination with the many vessels and sculptural objects that are revered in the rituals of both primitive and contemporary cultures. Natural elements such as bone, wood, vine and rock formations combine with our highly original color palette to inform our signature pieces.
Our work merges traditional hand blown glass techniques with innovative color applications and original sculpting techniques.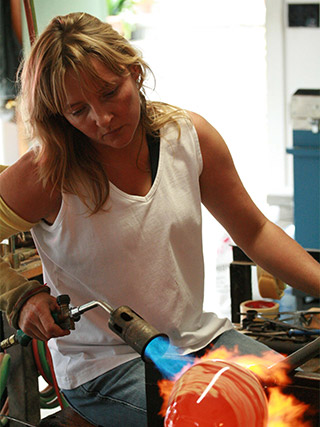 Danielle Blade
Originally from the Isle of Wight UK, Danielle is the daughter of British glass artist Martin Evans.
After an apprenticeship at Isle of Wight Glass, Danielle moved to the US in 1985. Prior to establishing Gartner Blade Glass, Danielle studied with prominent American and European glass artists and was employed as a glasshouse gaffer and a glassblowing instructor.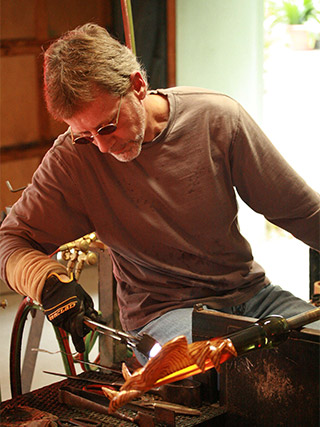 Stephen Gartner
Born in Phoenix, AZ, Stephen grew up in the Southern United State and also Naples, Italy.
Stephen began his glass making career working with borosilicate glass. Stephen adapted techniques commonly used for torch work for use with hot glass. These adapted techniques allowed for great creativity and flexibility and the collaboration that is Gartner Blade Glass began.
Stephen worked as an instructor and a glass house gaffer prior to establishing Gartner Blade Glass.